Geneology-Fan

My children
Aileen May
AILEEN MAY VASQUEZ BRITT [REUSCHE] was born on 30 July 1976, in Port-au-Prince, Haiti, to Gary Arthur Reusche 26 and Carolyn Ann Reusche Peterson [Hayes] 27. Aileen had two main partnerships: Caraharee Dartez Vasquez Sr and Jimmy Lamont Britt Jr. Her middle name, May, is from an early Baha'i, May Maxwell, the mother of Ruhiyya Khanum, wife of Shoghi Effendi. Her first husband, Caraharee, was born on 10 September 1975, in Hammond, Indiana. They married 20 May 2000 in Indianapolis, IN, and they were divorced in July 2003. They had one daughter, Analissa Vasquez 1 in 2000. Jimmy was born on 15 November 1973, in LaGrange, NC. He likes the Duke Blue Devils. Jimmy and Aileen started living together about June 2014, when Jimmy was aged 40 and Aileen was aged 37. Jimmy was never married but had 2 children. Have time with his children was a problems, and to mitigate the problem, Aileen and Jim postponed their marriage and remain engaged and hope for the opportunity.
Nabil Robert
NABIL ROBERT REUSCHE 27 May 1978 in Abidjan, Cote d'Ivoire. Nabil is named after a Baha'i hero and author of the book "The Dawn Breakers". Nabil was married to Anna K Reusche. Anna was born on 18 December 1978, in Raleigh, NC. Her father was Barry R Keith Apr 25 1950 and mother Deborah J Keith, Dec 14 1951. They lived at 7704 Old Baucom Rd. Part of this rural property was gifted to their daughter, Anna, who with Nabil built a home and established their residence. Nabil and Anna were married on 6 August 2005. They had two daughters: Eva Grace Reusche in 2009 Maggie Reid Reusche in 2013.
Lua Maryam
LUA MARYAM REUSCHE was born on 26 January 1984, in Raleigh, NC. Lua married twice (Brock Allen Sherman and Daniel Paul Ahrendt). Brock was born on 16 July 1976, in Ridge Farm, IL, to Terry Sherman and Yvonne Sherman [Brierley]. Brock married Lua Maryam Reusche on 12 May 2011 in Indianapolis, IN. Daniel Paul was born on 28 November 1979, in Cleveland, OH, to Philip Ahrendt and Lucille Ahrendt. They had one son: Daniel Paul Ahrendt Jr. in 2004.
Martha (Marta)
MARTHA (MARTA) REUSCHE was born on 3 November 2003, in Moscow, Russia.
Alexander (step-son)
Alexander Ivanchenko, son of Svitlana, born on 24 September 1993. Svitlana's was born in Belarus, during the time of the soviet union. Her birth family name was Klivanska, the name of her biological father, but this was changed to Omelchenko, the name of her mother's second husband. Svitlana Omelchenko married Dmitro Kushka, born 26 February 1970, from a neighboring village, Isaki. Alexander's birth name was Kushka, but this was changed with the approvel of his father Dmitro to the family name of Svitlana's second husband Ivanchenko. The marriage between Svitlana and Dmitro took place on 14 November 1992 and for a short time, her married name was Svitlana Kushka. Her stepfather, a main figure, both in the life of Svitlana and Alexander, was Volodymyr Vasilovitch Omelchenko, who was born on 17 JUNE 1955 and was the second husband of OMELCHENKO NADEZHDA FEDERIVNA born 16 APRIL 1957.
My grandchildren
ANALISSA VASQUEZ (Gary's granddaughter) was born on 10 August 2000, in Indianapolis, IN, to Caraharee Dartez Vasquez Sr. and Aileen May Vasquez [Reusche] , as shown in family tree 1.
EVA GRACE REUSCHE (Gary's granddaughter) was born on 10 November 2009, in Raleigh, NC, to Nabil Robert Reusche 9 and Anna Reusche [Keith] , as shown in family tree 2.
MAGGIE REID REUSCHE (Gary's granddaughter) was born on 8 August 2013, in Raleigh, NC, to Nabil Robert Reusche and Anna Reusche [Keith] , as shown in family tree 2.
DANIEL PAUL AHRENDT JR. (Gary's grandson) was born on 21 January 2004, in Noblesville, IN, to Daniel Paul Ahrendt and Lua Maryam Reusche, as shown in family tree 3.
Maternal Ancestry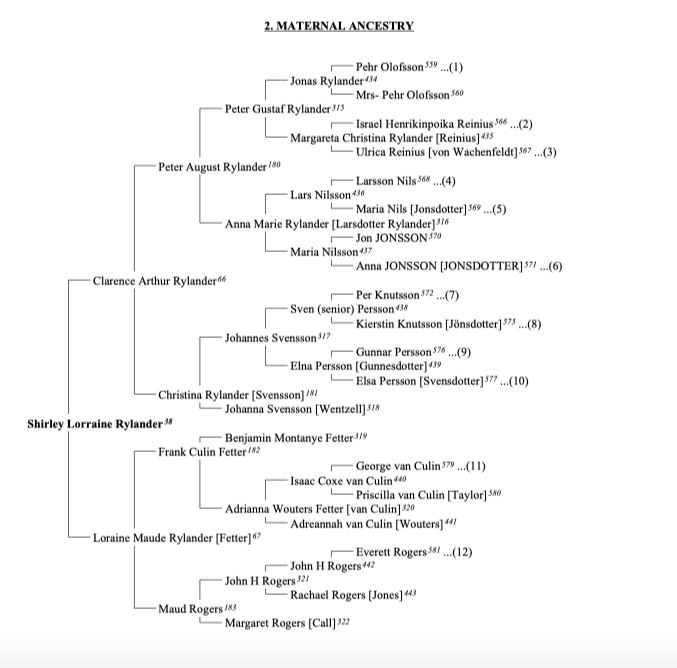 Rylanders, Sweden-Finland
I have very few memories about my Rylander grandparents.
Clarence Arthur Rylander, 26 January 1890/11 October 1959
Below from handwritten notes of mother:
Clarence Arthur Rylander, 26 January 1890 / 11 October 1959
Lorraine Maude Fetter, 25 October 1894 / 22 March 1965
Robert Louis Reusche, 14 July 1917
March 1953 to October 1954
October 1954 to April 1957
Rhea Armena Mitchell Reusche, 1 Dec 1893, children Maxine 25 Jan 1919, Phyliss 3 Dec 1923, Bill 19 Feb 1925
Louis Reusche, 13 Nov 1891 / 17 April 1955?, born Clinton Iowa, married 31 Aug 1940
Elinor King, born 25 July 1897, Seneca, Mo., married to Edward Joesph King, born 23 August 1894 in Boston, MA, married 8 Nov 1934,
Jack (John) Reusche, 7 May 1915, in Weeds, CA
Leo and Grace married 25 July 1914
Charles Reusche married Julia Becker 1855
Julius J. Reusche, born 1898 in Clinton, Iowa. Married Jeanette Bell who became Jeanette Howson. Worked as a blacksmith and died in 1903
Following notes from Sandy's handwritten notes, give to her from Jack
Brother and sister of Leo Reusche: Charles Julius Reusche, 26 Feb 1886 in Lyons / died 19 January 1965
Belle Winfred Reusche McGonogle, born 17 June 1895 / died 21 Dec 1974
Grandparents of Leo: Jeanette Bell of Iowa, 2nd marriage became Jeanette Howson, born 11 December 1863 / died 8 Sept 1956 and Julius J. Reusche born 2 Sept 1861 / died 17 July 1898. Buried Oakland Cemetary, Clinton, Iowa
Great Grandparents of Leo, Charles Reusche and Julia, married 3 July 1855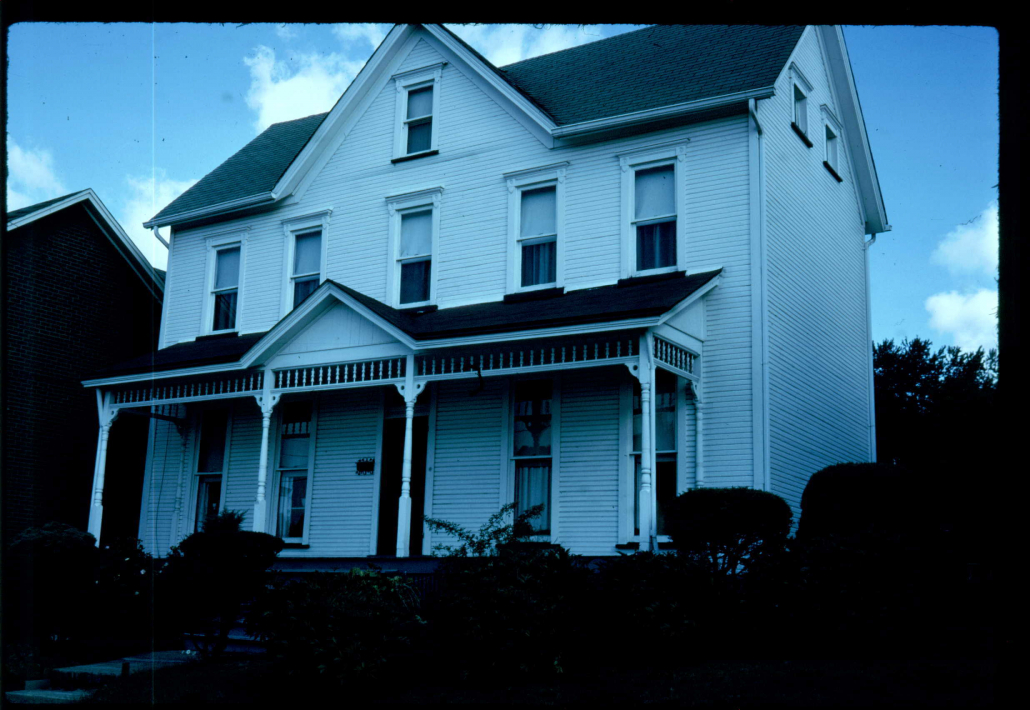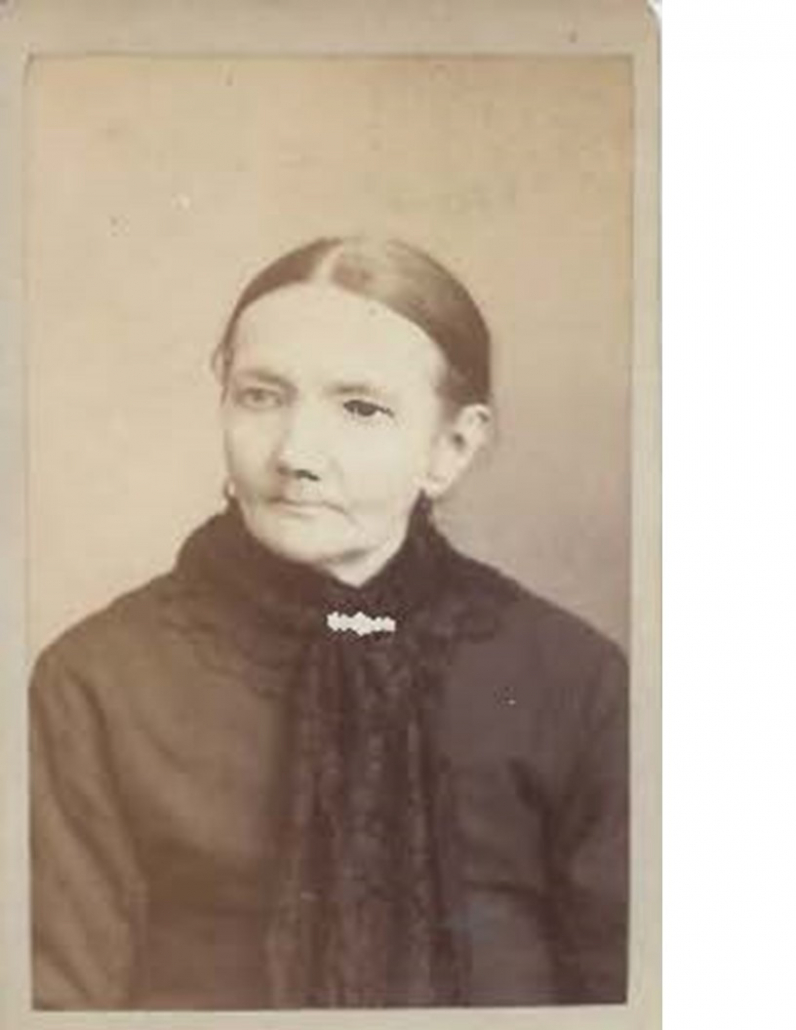 Fetters (from Germany?)
Hi Gary, I'll gather photos and such to send to you. Much of what I know of the Fetter family history comes from genealogy research done in the last ten years or so, so there isn't too much in the way of personal family stories. Frank Culin Fetter and Maud Rogers, our great-grandparents, divorced around 1899. Frank Culin Fetter and son Frank Rogers Fetter (my grandfather), stayed in San Francisco while Maud and daughter Lorraine (Shirley's mother or my grandmother), moved to the East Bay. My grandfather died when I was six or seven, so my only memories of him are of him sitting in the rocking chair, smoking his pipe, as all the adults sat around the kitchen table every Sunday afternoon. Us kids would come inside for cookies but mostly stayed outside to play. I'll send photos via email. It will take a series of emails, and some time as well.
Jim jimfet@sbcglobal.net
Attached are Casper Fetter's last will and testament, and photos of a few graves from the Southampton Old School Baptist Meeting House, where we're kin to a LOT of the folks laid to rest in their cemetery. Our immigrant Casper Fetter is not there (I could not find him in any church or civil records), but children and their marriage partners are, and descendants as recent as the 1960's. Are you familiar with our Montanye family line? If not, I suggest you check out the delamontagne.org website. We have a fascinating ancestry in both Dr. Johannes de La Montagne and his father-in-law, Jesse DeForest.
There's a single common source for what we all "know" about Casper Fetter. My brother and I did a trip together few years back to Philadelphia to visit and research Fetter sites. There's better documentation on the folks born and raised in America vs. the first generation that immigrated. I may have narrowed Casper's arrival down to a specific ship, the "Sandwich" in 1750. I have not seen any hard evidence about where he came from in Germany, only what other people have written and I've yet to see anything that could be considered an original source for that data. I will someday write to the Church in Illesheim, as their records are not yet online, and hopefully, they still exist, but I haven't done that yet. I do have a copy of Casper's last will and testament, I know where his farm was located and what church he left a donation to in Abington, PA which is still an active church.
Except for MyHeritage, the other two are very similar if you look at the areas circled on the maps. I've done the mtDNA and yDNA tests as well. My mtDNA, H45b, is found mostly in Ireland, but also in England and Northwest Europe. Mine is English. My yDNA, R1a (Fetter), is mostly found in Eastern Europe, with Germany right on its Western fringe. R1a very common in Eastern Europe, R1b in Western Europe.  
DNA ethnicity estimates are really somewhat meaningless. What DNA we inherit is really a toss of the genetic dice. A good example are the differences between myself, my brother and my sister. My brother is 50% Europe West and 35% Ireland/Scotland/Wales, my sister 86% Europe West and 11% Ireland/Scotland/Wales. Compare those to my 63% England, Wales and Northwestern Europe and 23% Ireland and Scotland. Our ancestry is simply a mix of the old-school version of the "American Melting Pot" of mostly Colonial Americans from all over the British Isles and Western Europe.
It's really a toss of the dice relative to what DNA we inherited from which ancestor from wherever they were from. My Fetter side (the part you and I share) is likely a mix of German, Dutch and French, English and Swiss, Scotch and Finnish, not necessarily in that order. Throw in a touch of Irish, too.   That's really more than I expected to say on DNA ethnicity estimates, so back to Fetter genealogy.
I seriously doubt the MyHeritage Ethnicity estimate for myself as well. MyHeritage has me 96% English with the remainder a split between the Baltic States and the Western Asia (Turkey), which is nonsense. My ancestry.com and FamilyTree DNA mixes are much closer to my actual ancestry, although they both recently boosted my English percentage. Ancestry's original estimate was nearly spot-on with my own pre-DNA estimate that I based on my research…54% Western Europe, 25% Great Britain, 10% Ireland, 9% Scotland and 1% Finland. Ancestry altered it to 63% England, Wales and Northwestern Europe, 23% Ireland and Scotland, and 3% other regions. It's really a minimal change, as the maps are almost the same, but labeled in a different way. FamilyTree DNA has adjusted my estimates since I last looked…now I'm 76% British Isles and 23% West and Central Europe.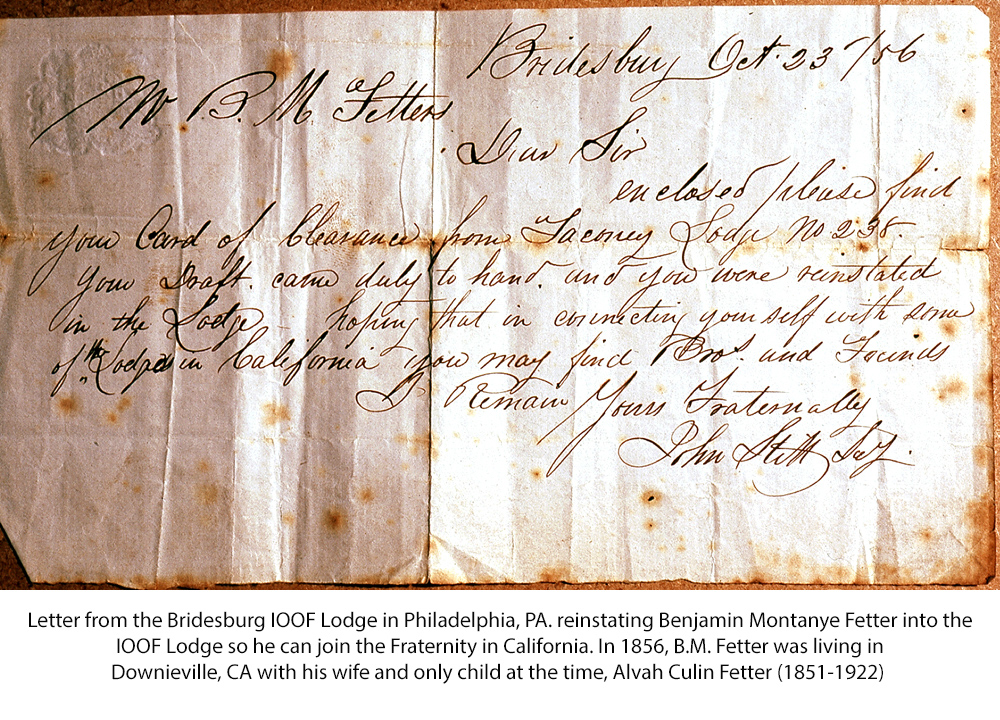 Paternal Ancestry – Reusche/Deweese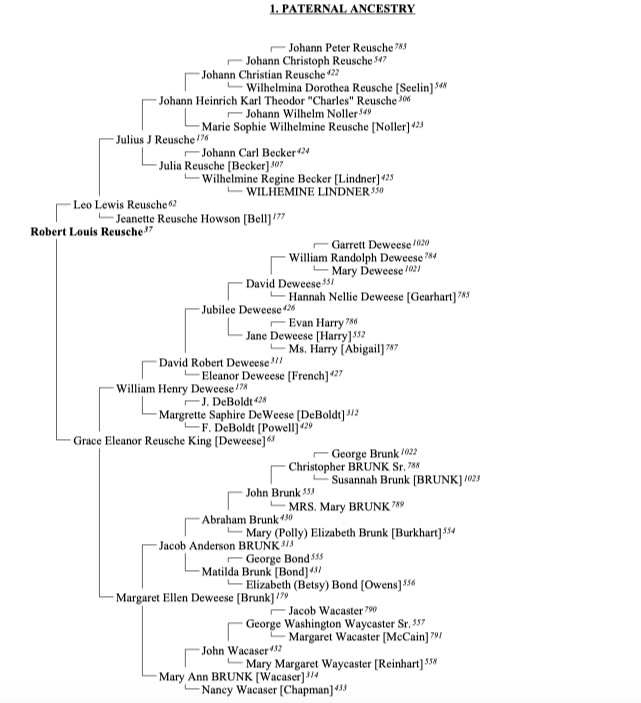 Reusches (from Germany)
Julia Becker born March 1837 emigrated in March 1837.??
Julius J Reusche (great-grandfather), was born 2 September 1861. His name can be found in the census on 1 June 1870, aged 8 years, in Iowa. Julius died on 18 July 1898, aged 36 years, in Clinton, Iowa. Grace Reusche said he died from a horse kicking him. Jeanette Reusche Howson (Bell), my great-grandmother, was his wife.
Johann Heinrich Karl Theodor "Charles" Reusche is my great-great-grandfather. He was born 29 August 1831, in Kranichfeld, Germany. He died about July 1868, aged about 36 years. Birth records were located in St. Michaels Church, in Kranichfeld, Thuringia, Germany. In the US, he became known as "Charles". At 23 y.o. hs married Julia Reusche [Becker], aged 17, on 7 March 1855. Julia Reusche [Becker] (great-great-grandmother) was born on 10 March 1837, in Germany, to Johann Carl Becker and Wilhelmine Regine Becker [Lindner]. In 1853, aged about 16, she immigrated. She was recorded in the census in 1900, aged about 63, in Clinton city, Clinton, Iowa,  They had three sons:
Charles H. Reusche (ca 1856-59)
Julius J Reusche (1861)
Adolph Reusche (1868)
Julia married four times. 1st: Johann Heinrich Karl Theodor "Charles" Reusche on 7 March 1855  plus 3 unknown after 1868 when Charles died
Johann Christian Reusche (great-great-great-grandfather) born on 27 August 1801, in Kranichfield, Germany, to Wilhelmina Dorothea Reusche [Seelin]. Johann died on 19 February 1872, aged 70 years, in Elvira, Iowa. Marie Sophie Wilhelmine Reusche [Noller] (great-great-great-grandmother) was born on 3 September 1811 to Johann Wilhelm Noller.  Marie died on 6 May 1886, aged 74 years, in Elvira, Iowa. Johann Christian and Marie Sophie Wilhelmine had 5 children:
Johann Heinrich Karl Theodor "Charles" Reusche (August 29, 1831)
Johann Frederich Karl Marjanus REUSCHE (1840)
Louise Reymann [Reusche] (1844)
Marie Sophie Goetz [Reusche]
Caroline DOERNFELDT [Reusche] 278
Johann Christoph Reusche (great-great-great-great-grandfather) born ca. 1755-65? He was married to Wilhelmina Dorothea Reusche (Seels or Seelin) (great-great-great-grandmother). They were married on 28 November 1786. Children:
JOHANN CHRISTIAN REUSCHE  born August 27, 1801
Johann Peter Reusche (great-great-great-great-great grandfather)
However, there is some confusion. I found the following information: for "Johann Joachim Heinrich Reusch" He was married to Catharine Elisabeth Schröder. They had a son, "Johann Christian Heinrich Reusch (18321868) born 29 Aug 1832 • Kranichfeld, Thuringia, Germany, and died 17 Jul 1868 • Lyons, Iowa. The source of this information was Germany, Select Births and Baptisms, 1558-1898. Above you can see that this record is the same as Johann Heinrich Karl Theodor "Charles" Reusche, my great-great-grandfather. I need to find more information about this.
My name is spelled Daun Lee Reusche'.  May 3, 1944 born  LA COUNTY  ROSCOE CA (which is now Sunland ) I have a sister Ferrol Denicia Reusche' March 26, 1947 born in LA COUNTY FONTANA CA 
My dad was John Leo Reusche' born in a town just below MT. WHITNEY CA.  he was married to LORETTA  LYNN ABELE REUSCHE'  born in Chicago. (2 ) children and later to CLARA MAE BENNETT FORTIN REUSCHE'  born in KENTUCKY.  (No children)
PDF Embedder requires a url attribute